An epic struggle against the Fire Giants of the Mecran Mountains. The fire giants have gathered together a massive army including numerous red dragon allies and attacked the Elven Kingdom of Selyeeron. The elves are being overwhelmed but in their pride they have not asked any of the surrounding kingdoms for aid. One elf, the griffin rider Kalamaran, took it upon himself to travel to the Kingdom of Ranica and ask the King if he could send his bravest warriors to aid the elves. For political reasons, the King could not send any of his army or his vassals, but he could get Kalamaran in touch with the most powerful adventuring band in the Kingdom.

The party of Eric, Faelon, Praxus, Brother Thomas, Hardul, and Cato accepted the quest to rid the Kingdom of Selyeeron of the invading fire giants and red dragons. This would be no easy task, as there were over 100 fire giants in the field supported by over 1,000 trolls and ogres and 5 or 6 red dragons. The party decided that their best course of action would be to strike at the command centers. The fire giant armies had leveled Quetyl and built a new fortress on its ruins. The fire giant armies then marched west and drove a wedge into the heart of the elven kingdom. The vast majority of the fire giant armies were in the field between the elven keeps of Yorsyna and Elenas. The general of the fire giant armies was believed to still be at Quetyl, however.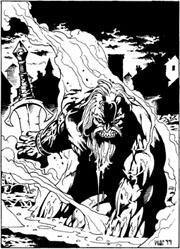 The Fire Giant General Mogthrasir
with his legendary giant defender
sword behind him.